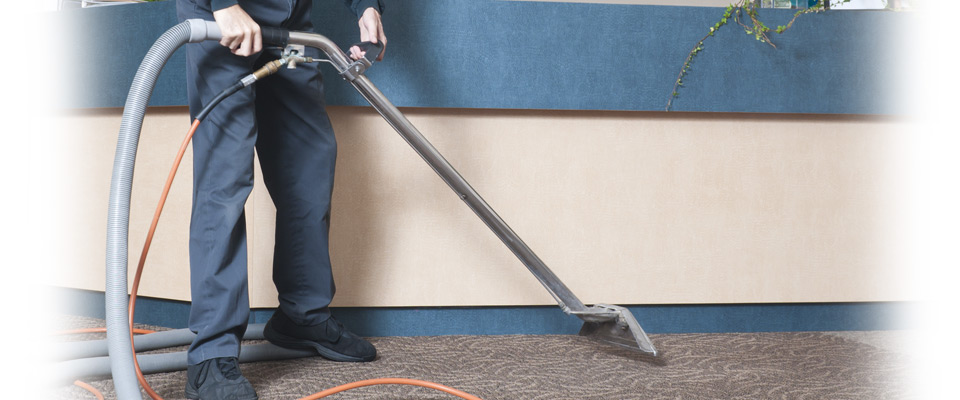 There are various carpet cleaning methods we offer to our clients.  The first thing State Building Maintenance Limited does is determine which option is best for your business.  We look at the type of carpet and its composition, the age of the carpet and the traffic patterns.
You have enough to be concerned about in the running of your business.  Join the many businesses throughout Toronto and the GTA, Vaughan and the surrounding areas and schedule a carpet cleaning program with us.   Whether it be a yearly clean, once every three months or on demand, we will be happy to be of service. Our business, established in 1963, is built upon exceeding our customer's expectations.
ROTARY CARPET CLEANING Services
We pre-treat all stains prior to rotary cleaning.  Rotary cleaning is highly recommended on heavily soiled carpets.  Rotary cleaning provides an in-depth cleaning of the carpet fibres.  A specific machine is used in the Rotary Carpet Cleaning process.  A nylon bristle brush on the machine, using synthetic solutions, gives you a more effective deep cleaning of the fibres because rotary brushes thoroughly clean the carpet fibres on each side.
After a flood clean up rotary machines with specific solutions are then used to treat carpets for odour and water damage.
STEAM CLEANING Services
Prior to cleaning your carpets we will walk your carpeted areas and spot clean the carpets for spillage and stains.
Steam cleaning, known as hot water extraction, is forced into your carpet under pressure loosening debris and grime.  Synthetic solutions are added to the water to aid in the cleaning.  The moisture, soil and any residue is then extracted and the carpet is left to dry, which may take some time. Stairs, landings and elevators are included in this steam cleaning process. Steam cleaning will kill dust mites and eliminate trapped pollutants.
We treat carpets for odour and kill mold spores with a specialized anti-bacterial agent.
QUICK DRY CARPET CLEANING Services
For quick drying results we will perform a Rotary Carpet Cleaning using specific solutions that will dry in about two hours, after which the carpet will need to be vacuumed.
SPOT CARPET CLEANING Services
Unwanted spots happen to carpets and sometimes they need a little extra attention.  Our team specializes in providing effective spot cleaning services to both carpets and upholstery.
INTERIM CARPET CLEANING Services
Every workplace has high traffic areas.  These areas often take the brunt of the wear and attract most of the dirt and the stains.  By addressing these areas as needed we can prolong the life of your carpet.
STATIC ELECTRICITY IN YOUR CARPETS
To eliminate the painful effects of static electricity on your carpets we treat your carpets with an anti-static spray.
FLOOD CLEANING AND RESTORATION
Whether it be a broken pipe or a roof leak damaging your carpets State Building Maintenance Limited provides flood cleanups and restoration.  We extract all the water, then the carpet is lifted to see if there is an underlay.  Generally underlays cannot be saved but need to be replaced.   We set up air movers and dehumidifiers to speed up the drying process.  We then treat your carpets for odour and mold spores.
UPHOLSTERY CLEANING
We provide Upholstery Cleaning and the cleaning of area rugs and mats.  Office dividers are often upholstered and attract greasy hand prints, dust and allergens which we gently clean with upholstery tools.  In Upholstery Cleaning, State Building Maintenance Limited implements the use of specialize tools and solutions to clean all of your soft materials.
CARPET AND FABRIC PROTECTION
We offer carpet and fabric protection for all your carpets and soft materials.  This is usually performed after a steam cleaning.  This solution does wear off after a time and needs to be reapplied.
FOR A FREE ESTIMATE CONTACT US     
OFFICE CLEANING SERVICES VAUGHAN | OFFICE CLEANING SERVICES TORONTO 
JANITORIAL SERVICES TORONTO & VAUGHAN