OFFICE CLEANING: WHY IT IS IMPORTANT AT THIS TIME OF YEAR TO  STEAM CLEAN YOUR CARPETS AND REFINISH YOUR FLOORS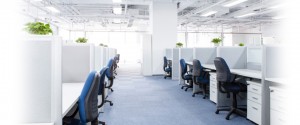 Spring is a time for birth, rebirth and renewal, it is also that time of year, after many sunless, gloomy days of winter, when businesses get their verve back and start focusing on bringing in new customers.  And it is also that time of year when, as the sun pours through our windows, that we notice some of winter's damage.
From experience, State Building Maintenance Limited recognizes that no matter what your daily office cleaning program entails, winter is the hardest on all flooring materials, whether you are talking about carpets or hard surfaced floors such as marble or man-made tiles.
No matter how diligent an office cleaning company is when taking care of your carpets and floors, by the nightly vacuuming of carpets and mats and sweeping and damp mopping of flooring, customers and staff do bring in damaging grit.  These tiny pieces of winter road salt, miniscule gravel, de-icers etc. adhere to your footwear, are then carried into your offices and become deeply imbedded in your carpets. If they are not vacuumed up daily because your cleaning program may different from a five-day a week cleaning schedule, these tiny pieces can then, on carpets, cut open the looped fibres of carpets and shred twisted fibre carpets, so it is imperative to remove all these destructive particles before they are trampled down even further into your carpets. So, for those customers who are not on a daily vacuuming schedule, we suggest that at winter's end a deep, deep vacuuming be done with a heavy duty, strong suctioned vacuum that has an agitator, to bring to the surface all these granules.  This may even require a second deep vacuuming to protect your expensive investment.
And as part of our spring office cleaning program State Building Maintenance Limited will then do a rotary cleaning, a steam cleaning and a deodorizing of your carpets.  Our customers who are on an "every three months' carpet maintenance program" with State Building Maintenance Limited are delighted at how effectively we can maintain the original colour of your carpets no matter how harsh the winter. After State Building Maintenance Limited has taken over a new customer's carpet maintenance program, because of ineffective carpet cleaning by other cleaning companies, our new customers are pleasantly surprised when we have often brought back the original colour of their carpets.  It is important to handle winter's damage before we head into the summer months.
These same destructive pieces of grit will cause even more noticeable damage to your hard-surfaced floors. To help stop the etching of your floors, State Building Maintenance Limited recommends, throughout all seasons, a daily sweeping with a treated sweeping tool and a damp mopping or floor steaming. Unfortunately, as we are often not there throughout the day to stop the grinding in of these granules, damage will occur during working hours.   So beyond our nightly floor sweeping and damp mopping, we will shield your flooring throughout the year by putting down protective finishes and perform a buffing as needed.  But in time all floors will need to be stripped to prevent a build-up of floor finishes. State Building Maintenance Limited suggests to all businesses, whether they be commercial, industrial, retail or condominiums, that spring is the perfect time to refurbish your floors.  State Building Maintenance Limited will strip your floors and put down a floor finish that is the appropriate impregnator and/or sealer for your type of flooring and if requested, provide our first-rate floor maintenance program, taking into account your needs and budget.
In some cases, because of heavy foot traffic, customers may choose to set up several floor stripping's and refinishing's throughout the year along with a daily, bi-weekly or a weekly maintenance program.  We will be pleased to come in and undertake a one time, spring floor refinishing or set up a complete office cleaning and janitorial program per your requirements.  State Building Maintenance Limited, known for their effective, efficient and reliable staff, are insured and bonded and members of WHMIS.  WE DO IT ALL, so whether you need a steam cleaning of your carpets or a stripping, buffing or burnishing of your floors, a full WINDOW CLEANING, an EVENT CLEAN-UP, CONDOMIUM, MANUFACTURING OR WAREHOUSE CLEANS, please call STATE BUILDING MAINTENANCE LIMITED at 416-247-1290 or email us at info@sbml.ca for a free quote.