Tips for Window Cleaning This Spring
It's amazing how much dirt can creep up on your windows during winter. You probably have a spring cleaning to-do list that's piling up for your workplace now that the weather's getting warmer. It's time to clean out the offices, empty the closets, clean up your office's outdoor space and clean your office building's windows. Let's face it; it's really not fun to clean your windows in the chilly winter months. Call State Building maintenance for all your office cleaning services.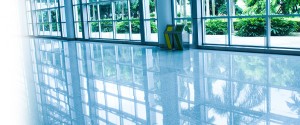 Ideally, your business' windows should be washed at least twice a year. Spring is the perfect time to make those windows clear again.
Washing windows can be a hard chore. It takes the right equipment, cleaner, and experience to not only clean your windows but keep them streak-free. Consider SBML for all your office cleaning services.
The first trick is to have the right gear to get your windows clean. You need to have the ability to wash the entire glass of your window, it's also important to do so safely.
Cleaning your windows provides a great opportunity to check around your window frames to make sure your rubber seals are properly intact. The cold of winter can actually crack and break down the rubber sealing of your windows. Damaged seals will cause your utility bill to skyrocket both in the summer and in the winter. Also, cracked seals will provide a great way for insects, dirt and debris to enter your workplace. Moisture trapped in damaged rubber seals also cause the wood surrounding your window to rot. It's also not unusual to find moisture trapped between the glass panes of double-pane windows, this should be repaired right away. When left unaddressed you may find yourself needing an expensive repair.
When it comes to actually cleaning your windows it begins with a good squeegee, some high-quality dry cloths and a bottle of glass cleaning solution. We recommend that you purchase an environmentally-friendly cleaner. There are lots of glass cleaners on the market; it may be worth your time to do a little research on which cleaner will work best for your business' needs.
Avoid using a roll of paper towel to clean your windows. Using wadded up paper towel will simply just move the dirt and grease around the glass, not remove it. Also, it will create a static charge on the window which will attract even more dirt and dust to the glass. You'll probably notice that your windows will still be dirty after they dry.
You'll want to pay extra attention to the picture windows in your office building. These windows are the largest and provide tons of attractive natural light into your space. Mix a cleaning solution in warm water (the fewer suds the better) and use a long cloth applicator to spread the solution across the glass without scratching anything.
Once you squeegee the glass you'll want to clean using a reverse-S pattern, cleaning the squeegee's blade with a lint-free rag. Another important part to keeping your windows streak-free is to dry the glass with a damp cloth. There are various solutions on the market to eliminate stubborn stains from things such as hard water runoff from mason work or mineral stains from rain.
Sometimes it's best to leave your spring window cleaning to a professional. At State Building Maintenance Limited, we've providing office cleaning services and window cleaning services to offices in Toronto, Vaughan, Markham, Mississauga and Brampton area to ensure they have streak-free windows since 1963. In addition to cleaning your office building's windows, we also recommend steam cleaning your the mats at all of your entrances. Call State Building Maintenance for all your office cleaning services. Our goal is to make your business clean and inviting for all who enter. Also, we don't just clean your glass, we'll make sure your window frames are also dirt-free.
Learn more by contacting one of our experienced window cleaning professionals by calling 416-247-1290 or email us at info@sbml.ca. Make sure to ask about our office cleaning services Toronto and Vaughan!